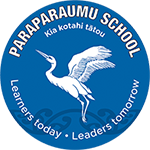 Dear families and friends of our school
Swimming for the senior school:  There are lots of exciting activities for the students to get involved with this term—starting off with swimming at the Aquatic Centre for our senior students which begins on Thursday 16th Feb.  PLEASE pay on Kindo.  Thank you for your support and helping to keep our kids safe in the water.
School lunches can be ordered on Thursdays again this year and these are provided by "New World ". Orders can be made via Kindo app before 9 am on a Thursday.  These will be delivered to the school reception at 12:20pm.  Menus can be found on Kindo.
Mathletics, Reading Eggs & Reading Express:  I do encourage you all to sign your child up for these web-based programs at $26 for a whole years access. It really does make homework exciting and helps reinforce what is being taught in class.
School Road Crossing
A reminder to please be very careful around the road crossing during drop off and pick up times. Our road patrollers are newly trained and need lots of help to grow their confidence.
Please listen carefully to them and obey their instructions. Please also be aware of where to park and where not to. Cars parked in the wrong place can obstruct the view of our road patrollers. Your co-operation is appreciated.
Nga mihi nui ki a koutou – warm regards to you all.
Steven Caldwell
PRINCIPAL
Student of the Week
Room 8 Year  6
The student of the week for Mrs C.M.'s class is ….. drumroll please ….. Miss May!  I spotted a little something extra special in May the very first day that I met her.  May has a thirst to learn more and more and more!
She will take a risk and have a go, she uses manners, she is responsible and respectful, she makes the right choices and she has fun!  I can always count on May to be listening attentively and be courteous whilst showing good manners in the classroom.  She is a great role model for others as she consistently cooperates with other students and is always kind and helpful to everyone in the classroom.
May is a beautiful and kind student who strives to do her best at all times. We are so lucky and I am so honoured to have her in Room 8 again.  Thank you May for the commitment you have put into your development and learning in Room 8.  Keep working hard and all your
dreams will come true!!!
| | | |
| --- | --- | --- |
| Congratulations to our Whiz Kids | Room | P.A.R.T Certificates |
| Indy D | 1 | Kolohe |
| Ceira | 2 | Micah |
| Manahi | 3 | Jai |
| Vanya | 3 | Zede |
| Noah | 4 | Kylie |
| Cori'lee | 5 | Te Ahi |
| Sienna | 6 | Ashleigh |
| Logan | 7 | Axel |
| Rylee | 8 | Jackson |
| Kowan M | 9 | Kayla |
| Cody | 10 | Millar |
| Cailey | 11 | Ben M |
| Sacha | 12 | Chloe |
| Orion | 13 | Aidan |
PTA Family Night Slip and Slide!
Friday 3rd March
Bring the whanau down to school 4.30-6pm to celebrate summer with a Slip 'n' Slide! Bring a picnic or we have a sausage sizzle available, $2 cash.
Just a reminder that the Crusaders are coming through Kāpiti Airport this Friday at 12.30. More FM will be there from 12-2pm with games and giveaways as well.
Everyone in Kāpiti is invited to come along, get an autograph/selfie and have some fun with us at the airport.
We would love to see some of our Tamariki come along and join in the fun if you  have any willing teachers/parents who would be keen to provide taxi services to the airport!.
There will be a squad of 47 arriving, with 10 All Blacks, so it will be a great opportunity to meet some of our star Kiwi Rugby players.
PLAY YOUR PART".  "PLAY YOUR PART".
PART of the Family/ Kia kotahi tatou was developed from our school being part of the PB4L (Positive Behaviour for Learning) professional development. P.A.R.T is designed to provide an overarching concept that all involved with Paraparaumu School will live by, that includes students, staff and parents and caregivers. It is designed to nurture a positive environment by promoting respectful and caring relationships that support student Hauora, (wellbeing).
For the first three weeks of term we will be focusing on the value of 'RESPECT'.  What does this look like?  What does this sound like?  Teach your children to use respectful words and phrases, like "Yes, Miss/Mrs. Smith," and to say please and thank you. Explain that respect is shown not only in their behaviour but also in their attitude toward others. Make sure kids know that it's not okay for anyone, including adults, to use disrespectful behaviour
Kindo online school shop – register now
Our online Kindo school shop means you can pay for your school costs easily – set up an account today and pay swimming, Reading Eggs or Mathletics .  You can now purchase lunches on a Thursday and PTA Pizza
Fridays via KINDO!
No need to find coins and it's open 24/7!
Need assistance? Our Kindo helpdesk is open 8am to 4pm weekdays.
Freephone: 0508 4 KINDO (0508 454 636)
Email: hello@mykindo.co.nz
Online support: support.mykindo.co.nz
Big Band Uke Club.
A perfect start to your musical journey.
Contact Shane to enrol your Rockstar.
Netball 2023
Registrations are now open for years 5-8
For more information about pre-season sessions, trials and the upcoming winter season please check out the link below. The registration form link is included on this page.
https://www.sporty.co.nz/paraparaumuprim/netball-2/information-3