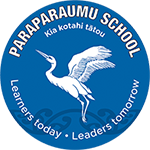 Dear families and friends of our school
Newsletters
From this week on we will be sending newsletters out every odd week in the term, i.e. 3, 5, 7 etc. A lot of the information in the newsletter is generic and doesn't change on a weekly basis. For day to day information please continue to use your child's class Facebook page and the Paraparaumu School Facebook page.
Dropping off and picking students up
Please be mindful when picking up and dropping children off at school. The road patrol students need clear lines of sight when operating the crossing. Your help with this as always is most appreciated.
Steven Caldwell
PRINCIPAL
Student of the Week
Zoe Room 9 Year 7
Zoe, you are an absolute delight to teach. You demonstrate all of the school PART values and have a kind and caring nature.
I love how hard you have been trying with your mathematics lately and you are willing to give challenging tasks your best effort. You should be proud of your hard work and resilience.
You treat your classmates and myself with respect and you are always willing to help others with their work.
You should be proud of your efforts this year. Keep up the good mahi!
| Whiz kids | Room | P.A.R.T Certificates |
| --- | --- | --- |
| Tawera | 1 | Caden |
| Glenise | 2 | Manutaki |
| Cruz | 3 | Capri |
| Zena | 4 | Xandy |
| Maia-Jade | 5 | Rocco |
| India | 6 | Holly |
| Meadow | 8 | Abel |
| Zion | 10 | Jahziah |
| | 10 | Lachlan |
| William | 12 | Paige |
| Gaia | 14 | Finn |
FRIDAY PIZZA DAY – PTA FUNDRAISER
To our awesome parental community, just wanted to remind you of our on-going pizza fundraiser, and get the word out to new families to our school.
Parents can order slices of delicious Domino pizzas on KINDO. Orders need to be done by 6 PM each Thursday night and are delivered to your child's class each Friday for lunch. We would like to assure you there is NO EXTRA SURCHARGE presently on each order. The types of pizza are cheese, cheese without sauce, pepperoni, hawaiian, and ham and cheese. Prices range from $2.00 to $2.30 per slice.
This is the PTA's biggest fundraiser, and all money raised goes back into our school.
Some examples of what your ongoing support has/will go towards:
A free bus ride for each class for an educational trip.
Free nutritional lunch packs (fruit, muesli bars, ham rolls, biscuit) for any child who needs lunch.
Glow sticks for the Matariki night
All manner of bubbles, and the actual SLIP N SLIDE for our annual slip and slide event.
The Easter eggs and prizes for the Easter Bonnet Parade.
Thank you to our amazing parental
community for supporting this fundraiser. And the members of PTA, particularly Donna Smith and Alice Pritchard, for making this happen each Friday.
PARAPARAUMU SCHOOL PTA QUIZ NIGHT!!
The Paraparaumu School PTA Quiz Night is approaching, Thursday 10th August, 6.30pm at Boundary tap and kitchen (tickets available on kindo). It will be a fun night with loads of laughs so get a team together and come along!! We really need more teams for this event!!
We will be having a raffle on the night and already have some amazing prizes. Don't worry, raffle tickets will also be available on kindo if you can't make it on the night.
We are putting together a grocery raffle basket and would love some support. If you are able to donate something, please bring it into school. We will have a drop box in the office. I have put an example of items. Crackers, pretzels, chips, tea, coffee, chocolate, lollies, biscuits, body wash, shampoo, face cloth, soaps, etc.
We are fundraising for providing every class in the school with a free bus ride to an educational trip. It will also help us to continue to provide school lunches to any child who needs kai. Thanks for your ongoing support!
Paraparaumu School PTA