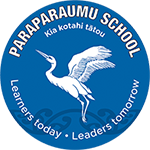 Dear families and friends of our school
Earlier this year the Board decided to move our policies and procedures to SchoolDocs. SchoolDocs works with over 1800 primary, intermediate, secondary, and area/composite schools throughout New Zealand to keep their policies and procedures up-to-date. I am pleased to advise that our SchoolDocs site is now set up and the Board officially adopted the published policies at the August meeting. I encourage you all to check out the site. You will find all of our school policies and procedures in an easily searchable website. A link to the site is on the school website.
User name: paraparaumu Password: paraparaumu
Another great feature of the SchoolDocs site is it easily enables the whole school community to participate in reviews of our policies. Anyone can add their feedback and comments on the policies that are up for review that term. This term the following polices will be reviewed:
– Inclusive Education
– Maori Educational Success
– Learning Support
– Learning support coordination
– Identify learning support
– Gifted learners
I encourage you to go to the site, have a look at the content & add any feedback you may have on the above policies that are under review.
Nga mihi
Delwyn (Presiding Member, Paraparaumu School Board)
Welcome to Rupert in Room 4 who started this week.
Nga mihi nui ki a koutou – warm regards to you all.
Steven Caldwell
PRINCIPAL
Student of the week – 6
Abby Room 11 Year 8
Abby, what a star you have been in your learning throughout your time with Te Whānau Pīrere. This year, you have chosen your one word goal to be 'believe' and you have encompassed this into every learning opportunity that you have had presented.
It is evident that you have a clear understanding of your learning journey and find ways to consistently challenge yourself and those around you – always questioning whether the work that you are doing is your best work.
Kia kaha e hine – continue to believe in yourself and you will be unstoppable in whatever pathway you choose.
Student of the week – 7
Carly Room 7 Year 6
Carly, you are completely deserving of 'Student of the Week'.
Over the last couple of years I have watched you develop into a caring young person with a strong sense of who you are and what you are about. You have nourished your friendships, and recognised when extra efforts need to be made to encourage and support others. I love the self confidence you have gained in Maths (I told you that you could do fractions) and the effort you put into all your work. Your school spirit is unstoppable, I can always count on you to dress up, sparkles on, chants at the ready. Your antics and sass make you a born performer and I fully expect to see you in a starring role in a fabulous production one day. (I'll be the one cheering the loudest)
Well Done Carly. You did it.
KAPITI POETRY COMPETITION
103 children entered the Kapiti Poetry Competition this year. TJ from Room 9 placed first and Chase from Room 9 placed third. Issac from Room 7 got an honourable mention. This is what the judges had to say:
1st – TJ
Ink Poem
Ink meaning honor,
respect and a mark of pride.
Enduring the extreme pain,
in your skin to represent your
country and your Ainga.
Being proud of where you're from,
Suffering the agony for your people,
Knowing every day,hour and second
samoan power is flowing through your veins.
6.8.5 to the death.
This winning poem is imbued with Samoan pride and culture – from the meaning of tattooing, the individual's relationship with family and country, to a willingness to endure pain. (Jane)
Ink poem was about the pride and pain for one's country. It was powerfully written with a sense of respect and history. The poet chose their words carefully and creatively. Very well done. Keep writing. (Dani)
3rd – Chase
Greek Strength
The ink injected in my body,
The pulse speeding down my arm,
Greek strength flowing through my veins,
Greek mythology in my heart.
The reader can imagine the poet here responding to a study of Greek mythology or to the poet's own heritage – or maybe both. A poem which reminds us of the importance of Greece's contribution to Western culture. (Jane)
Greek strength was short but striking and told with a passionate voice. It felt very wise and was a wonderful entry to read. We loved this poem. (Dani)
Honourable mention – Issac
Ink
Blue ink shining bright, what a delight
Writing Nona a letter, what could be better
I pick up the paper and it's thin like wafer
My pen flows like a feather, sending letter off to warmer weather
| Whiz kids | Room | P.A.R.T certificates |
| --- | --- | --- |
| Aileen Rose | 1 | Hannah |
| Glenise & Keya | 2 | Te Ariki & Theo |
| Te Awanui | 3 | |
| Kuupa & Rhya | 4 | Lachlan & Kylie |
| Blake & Hendrix | 5 | Hudson & Reef |
| Ashleigh | 6 | India |
| Aliyah & Axel | 7 | Robin & Elijah |
| Lachie & Zoe | 8 | Lauren & Charlie |
| Lizzy & Toby | 9 | Erica & Kiarah |
| Amelia | 10 | Iya |
| Issac | 11 | D'Arcy |
| Azariah & Avah | 12 | Sean & Hugo |
| Elton & Alby | 13 | Jony & Lola |
| Arlo & Tommy | 14 | Tom & Kylie |
Winter Junior and Senior tournament.
Year 5-6 and Year 7- 8 students went for a day of rippa, soccer, netball and hockey. We had two awesome days with full participation and super sporting skills. Well done to all our students who exhibited our PART values throughout the day – the teachers and adults were so proud! Thank you to the team managers, we couldn't have done it without you.